This is a recipe for making at home crispy and delicious Rava or Semolina Puris. These Puris are prepared using a mixture of flour, semolina and rice flour as the main ingredients.
The Rava Pooris can be served for breakfast, the main-course meals or even in the tiffin-boxes of school going children.
Preparation Time: 60 Minutes
Serves: 25-30 Rava Puris
Ingredients
250 grams flour
125 grams semolina[rava]
½ teaspoon turmeric powder
30 grams rice flour
50 grams butter
1 ½ teaspoon salt
30 grams ghee/vanaspati for frying the Puris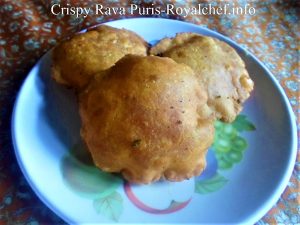 Preparation
Mix the flour, semolina, turmeric and salt.
Then, add 30 grams of the butter to the above mixture and blend it with a blender until it turn into a smooth sand-like powder.
Add the required quantity of cold water to the mixture and knead it into a soft dough.
Then, add the remaining 20 grams of butter to the rice flour and beat it with a rotary beater until it turns creamy.
Then, roll the dough into a large circle and spread the rice flour evenly all over it.
Then, roll it up to form a long and round shape dough strip.
Cut the dough strip into small equal sized balls and roll the balls into Puri like shapes.
Heat the ghee/vanaspati in a Kadai and deep-fry the Rava Puris until they appear slightly brown and crispy.
Serve hot with Chutney or Tomato Sauce.