This is a special Recipe for making at home Upvasache Chatpatit Fodniche Shengdane or Quick Groundnuts with Tadka. This is a useful snack to have in the house of the day of Fasting, which does not take much time or effort to make.
The Marathi language version of the same Peanuts recipe can be seen here- Upvasache Shengdane
Preparation Time: 15-20 Minutes
Serves: 4 Persons
Ingredients
2 Cups Peanuts
2 Teaspoon Red Chili Powder
Salt as per taste
¼ Cup Coconut (grated)
¼ Cup Coriander (chopped)
1 Lemon Juice
For the Tadka
1 Tablespoon Ghee
1 Teaspoon Cumin Seeds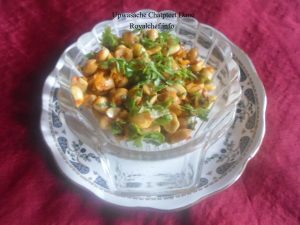 Preparation
Roast and remove the Skin of the Peanuts and sprinkle one tablespoon Water over the roasted Peanuts and then apply the Red Chili Powder and Salt. Then keep them aside for 10-12 minutes.
Heat the Ghee in a Kadai and add the Cumin Seeds, Peanuts and fry for two-three minutes.
Then add the grated Coconut, Coriander and Lemon Juice and mix it well.
Garnish with grated Coconut and chopped Coriander and serve hot.