This is a Recipe for preparing at home nutritious Indian Style Mixed Vegetable Soup. This Soup is not only a great appetizer; but it is also a good health drink and is normally given to the sick and ailing and those on a liquid diet.
The Marathi language version of this soup recipe and its preparation method can be seen here- Healthy Veg Soup
Preparation Time: 30 Minutes
Serves: 4 Persons
Ingredients
100 Gram Carrots
1 Cup Cabbage
1 Cup Spring Onions
½ Cup Green Peas
½ Cup French Beans
1 Small Potato
5-6 Leaves Spinach
½ Cup Cauliflower
1 Medium size Onion
1 Medium size Tomato
1 Table spoon Refined flour (Maida)
1 Table spoon Butter or Ghee
Salt and Black Pepper to taste
4 Cups of Water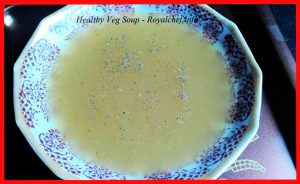 Preparation
First of all wash and then chop all the Vegetables or soft blend with a hand mixer.
Heat the Ghee in a Pressure cooker. After that add the Onion and fry till the color change to light brown. Then add the flour and fry for 2-3 minutes on a slow sim. Then add ½ cup of water and cook the flour for 2 minutes.
Then add all Vegetables and 4 cups of water and pressure cook for 8-10 minutes. After that add Salt and Black Pepper and cook for 2 minutes on a slow sim. Then strain it. Serve hot.