This is a Recipe for making at home tasty Corn Kachori (भुट्टेकी कचोरी). The Bhutte Ki Kachori make a crispy and spicy snack, which can be served as a stand-alone snack, as a starters snack for any kind of party or as a side dish along with the main course.
The Marathi language version of the same Kachori recipe can be seen here – Spicy Corn Kachori
Preparation Time: 45 Minutes
Serves: 12-15 Nos
Ingredients
For the Stuffing
2 Cups Corn (shredded)
2 Green Chilies (chopped)
¼ Teaspoon Red Chili Powder
¼ Teaspoon Cinnamon and Clove Powder
Salt and Sugar as per taste
1 Teaspoon Lemon Juice
For the Tadka
2 Tablespoon Oil
¼ Teaspoon Turmeric Powder
¼ Teaspoon Asafoeida
For the Covering
1 Cup Refined Flour (Maida)
½ Cup Gram Flour
¼ Teaspoon Turmeric Powder
¼ Teaspoon Red Chili Powder
2 Tablespoon Oil (hot)
Salt as per taste
Oil for deep-fry the Kachori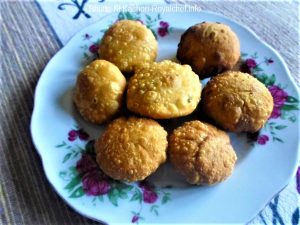 Preparation
For the Covering: Mix the Refined Flour, Gram Flour, Turmeric Powder, Red Chili Powder, Hot Oil, Salt and Water to prepare a thick Dough. Keep the Dough aside for 30 Minutes.
For the Stuffing: Shred the Corn Cobs and keep them aside. Chop the Green Chilies.
Heat the Oil in a Kadai and add the Turmeric Powder, Asafoeida, shredded Corn, Green Chili, Red Chili Powder, Cinnamon-Clove Powder, Salt and mix well, the cook until it become slightly dry. Then add the Lemon Juice, Salt and mix it well.
For the Kachori: Prepare 12-15 small balls from the Dough. Roll the balls into Puri sized shapes, insert a table spoon of the Kachori mixture and close the Puri, roll the Puri slightly. Prepare all Kachori in the same procedure.
Heat the Oil in a Kadai and deep-fry the Kachoris until the color changes into brown.
Serve hot with Tomato Sauce or Mint (Pudina) Chutney.