This is a Recipe at home Spicy Lonchyachya Kharacha Thecha or a Thecha using the seasoning, which is used in making pickles. This traditional and authentic Maharashtrian Speciality Thecha/Chutney is not only an excellent add-on to any meal but it is durable as well.
The Marathi language version of the same Thecha recipe can be seen here – Lonche Khar Thecha
Preparation Time: 20 Minutes
Serves: 300 Gram
ingredients
250 Gram Fresh Green Chilies
½ Cup Mustard Seeds
1 Teaspoon Turmeric Powder
1 Teaspoon Fenugreek Seeds
1 Teaspoon Asafoetida
¼ Cup Lemon Juice
½ Cup Salt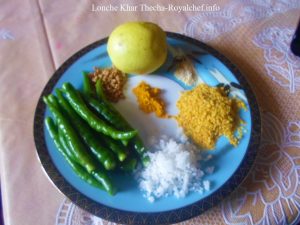 Preparation
Wash and wipe the Green Chilies and cut into small pieces. Then grind the Chilies in a Grinding Bowl/Mortar and remove the Grounded Chilies into a bowl. After that slightly grind the Mustard Seeds.
Mix the grounded Green Chilies, Mustard Seeds, Turmeric Powder, Fenugreek Seeds, Asafoetida, Lemon Juice and Salt. You can store this type of Thecha at-least 4-5 months.
Serve the Lonche Khar Thecha with Millet Bhakri or Chapati.