This is a simple to follow step-by-step Recipe for making at home crispy and spicy Namkeen Dukan Style Ratlami Sev. The Ratlami Sev is one of the most famous of the Indian Sev varieties and a very popular snack. By following this recipe, you can easily prepare tasty Ratlami Sev to add variety to your annual Diwali Faral Plate.
The Marathi language version of the Ratlami Sev recipe and preparation method can be seen here – Tasty Ratlami Sev
Preparation Time: 60 Minutes
Serves: 8-10 Persons
Ingredients:
2 Cups Besan [Gram Flour]
2 Teaspoon Red Chili Powder
7-8 Pepper Corn
½ Teaspoon Parsley Seeds
¼ Teaspoon Cumin Seeds
½ Teaspoon Ani Seeds
1" Cinnamon Piece
2 Cloves
1 Teaspoon Dry Ginger Powder
¼ Teaspoon Asafoetida
¼ Teaspoon Black Salt
¼ Cup Oil
A Pinch Soda-by-Carb
1 Teaspoon Lemon Juice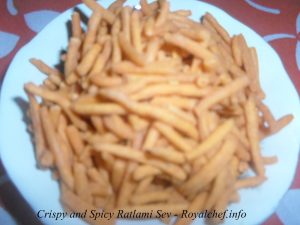 Preparation:
Heat the Tawa and slightly fry the Pepper Corn, Parsley Seeds, Ani Seeds, Cumin Seeds, Cinnamon, Clove and then grind to make a Powder.
In a big size plate strain the Besan, Red Chili Powder,, Hing, Salt and Black Salt.
Then add the hot Oil in to the mixture and add the Dry Ginger Powder, Asafoetida, Soda-by-Carb, Lemon Juice and mix it well and add Water as per requirement to prepare a soft Dough.
In a Sev Making Machine add the Sev Dough and use the big sized Sev Maker Mold and close it.
Heat the Oil in a Kadai and directly add the Sev into the hot Oil.
While putting the Sev, the flame should be on the higher side and after putting the Sev the flame should be reset to the lower side.
When the Sev becomes crispy, remove it from the flame and keep it on a news paper for draining away the excess Oil.
After the Sev cools down, put it into a Plastic bag and then store it in an airtight container.