This is a simple to understand step-by-step Recipe for making at home tasty Dahi Vadas. The preparation method is not that complicated one you have all the ingredients in place. The Dahi Vadas are a specialty North Indian snack or main course dish, which has become popular all over India.
I have also included the recipe for making the Tamarind Chutney, which adds flavor to the Dahi Vadas.
The Marathi language version of the same Dahi Vada recipe can be seen here – Tasty Dahi Vadas
Preparation Time: 30 Minutes
Urad Dal soaking Period 3 Hours
Serves: 15-16 Wada
Ingredients
For the Wada
1 Cups Black Gram (Urad Dal)
10-12 Raisins [Kismis]
1 Green Chili
Salt as per taste
Oil for frying the Wada
For the Curd
500 Gram Curd
¼ Cup Milk
½ Cup Sugar
Salt as per taste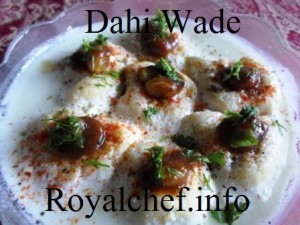 For the Garnishing
1 Teaspoon Red Chili Powder
1 Teaspoon Cumin-Coriander Seeds Powder
1 Teaspoon Black Pepper Powder
2 Tablespoon Coriander Leaves (chopped)
For the Tamarind Chutney
(For the Tamarind Pulp Soak the Tamarind 4 hours in Water and extract the pulp)
¼ Cup Tamarind Pulp
½ Teaspoon Red Chili Powder
¼ Teaspoon Black Salt (Kala Namak)
¼ Teaspoon Cumin-Coriander Powder
¼ Cup Jaggery
15 Raisins [Kismis]
1 Teaspoon Oil
Preparation
For the Tamarind Chutney: Heat the Oil in a kadai and add the Raisins, Tamarind Pulp, Red Chili Powder, Cumin-Coriander Seeds Powder, Black Salt, Jaggery and cook it on a slow flame until it become thick.
Preparation
Wash and soak the Black Gram Dal for two hours.
Take the Yogurt and add the Sugar, Milk and mix it well and keep it in the refrigerator.
After three hours grind the Black Gram Dal, Green Chili and two tablespoon Water into a fine paste and then add the Salt and Raisins. Mix it well and keep the batter aside for 5 minutes.
Heat the Oil in a Kadai and put one-one tablespoonfuls of the batter in the oil and deep-fry the it until it becomes golden yellow in color. These are the deep-fried Vadas.
Take warm water in a big sized bowl and dip the Vadas for two minutes in the water and then remove them from Water and press slightly to remove the water. Prepare all the Vadas in the same manner.
Arrange all the Vadas in a decorative bowl and pour the Sweet Yogurt over the Vadas and sprinkle the Red Chili Powder, Cumin-Coriander Seeds Powder, and Black Paper Powder over the Dahi Vadas in the bowl.
Then Garnish the Dahi Vadas with Tamarind Chutney and Coriander Leaves.
Then keep the bowl in a refrigerator for 2-3 hours.
Remove the Dahi Vadas from the refrigerator and serve chilled.