This is a Recipe for preparing at home tasty Kandyatli Andi [ in the Marathi language] or Onion Eggs or Masala Eggs. This is a most delicious and spicy Eggs preparation, which I learnt from my late Mother-in-law. A treat for lovers of Masala Eggs.
Preparation Time: 30 Minutes
Serves: 3 Persons
Ingredients
3 Eggs
1 Medium size Onion (finely cut)
1 Small size Tomato (Chopped)
1 Tablespoon Oil
¼ Teaspoon Turmeric Powder
½ Teaspoon Red Chili Powder
Salt as per taste
For the Green Masala
1 Cup Coconut (grated)
¼ Cup Coriander
7-8 Petals Garlic
½" Ginger Pieces
2-3 Green Chilies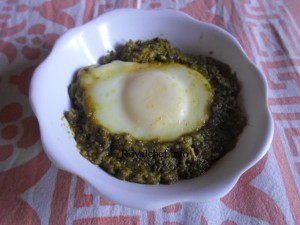 Preparation
For the Masala : Grind to a paste, the Coconut, Coriander Leaves, Ginger, Garlic and Green Chilies
Heat the Oil in a frying pan and add the Onion, Tomato and then fry for three-four minutes on a slow flame.
Add the grounded green Masala and fry for five-seven minutes on a slow flame. Then add the Red Chili Powder, Turmeric Powder and Salt and mix it well and add one cup of Water. Cook for five minutes on a slow flame.
Then break the Egg in the Masala where the bubbles are visible. (While breaking Eggs the yellow Yolk should not break) After breaking Eggs cover the pan with a plate and cook for five-seven minutes on a slow flame.
Serve hot with Parathas.