This is a Recipe for making at home tasty, delicious and Nutritious Crispy Soya Beans Cutlets. These Cutlets are not only good to taste, but are healthy because Soya Beans are said to be good for people suffering from diabetics and ailments related to the heart and blood Pressure.
These Soya Beans can be served during the main-course or as a starters snack.
The Marathi language version of the same recipe can be seen here – Tasty Soya Beans Cutlets
Preparation Time: 50 Minutes
Serves: 15-18
Ingredients
1 Cup Green Gram Dal
¾ Cup Soya Chunks or Granules
3 Cups Water
1 Medium Size Onion (chopped)
1 Tablespoon Ginger-Garlic Paste
3 Green Chilies (chopped)
¼ Cup Coriander Leaves (chopped)
¼ Cup Mint Leaves (chopped)
1 Tablespoon Oil
1 Teaspoon Cinnamon Powder
Salt as per taste
Oil for Shallow frying the Cutlets
2-3 Bread Slice (Crumbs)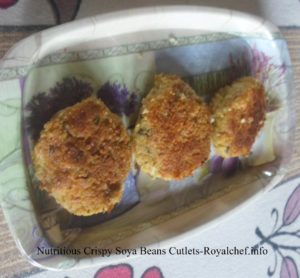 Preparation
Wash and soak the Dal for 30 minutes. In a Pressure cooker add 3 cups Water, Gram Dal and Soya Chunks or Granules (if you use Soya Chunks then grind them slightly) and pressure cook for 8-10 minutes. Chop the Onion, Green Chili, Coriander Leaves and Mint Leaves.
Remove the Gram Dal and keep it aside for cooling. After cooling grind it to a paste in a mixer.
Heat a table spoon Oil and add the Onion, Ginger-Garlic Paste, Green Chili and saute for 1-2 minutes on a slow flame. Then add the Salt, Coriander Leaves, Mint Leaves, grounded Gram Dal and mix it well. Then add the Cinnamon Powder and mix it well.
Prepare medium size balls from the Dough and roll them into the Bread Crumb.
Heat a non stick pan and arrange the Cutlets over the pan and pour some Oil and shallow fry them on a slow flame until them they become crispy.
Serve hot.