This is a Recipe for making at home Sukha Meva or Dry Fruit Karanji for Diwali Faral. These tasty and delicious Karanjis are prepared using assorted dry-fruits along with the usual coconut mixture to give them the added rich flavor.
The Marathi language version of the same Karanji preparation can be seen here – Tasty Dry Fruit Karanji
Preparation Time: 60 Minutes
Serves: 25-50 Karanji
Ingredients
For the Covering
3 Cups thin Semolina/ Suji (Rawa)
¼ Cup Ghee (hot)
1 Cup Milk
Salt as per taste
For the filling:
1 Cup Dry Coconut (shredded white portion)
¼ Cup Raisins [Kismis]
1 Tablespoon Poppy Seeds (Khas-Khas)
¼ Cup Almonds [ Badam]
¼ Cup Cashew nuts [ Kaju]
¼ Cup Chironji (Charoli)
¼ Cup Pistachio [ Pista]
1 Teaspoon Cardamom Powder [ Elaichi Powder]
¼ Teaspoon Nutmeg Powder [ Jaiphal Powder]
1 ¼ Cup Sugar Powder (Pithi Sakhar)
Ghee for deep-frying the Karanji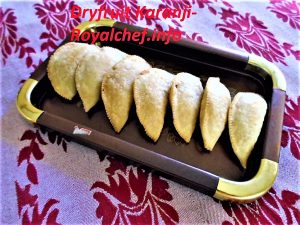 Preparation
For the Covering: Mix the Rawa, Salt, hot Ghee, then add the Milk and mix it well and add Water as per requirement to prepare a Dough. (Dough should be of a medium thick consistency), Keep it aside for 15-20 minutes.
For the Filling: Shred the Dry Coconut and roast it slightly. Slightly roast the Poppy Seeds and grind. Roughly grind the Almonds, Cashew nuts, Chironji, Pistachio. Mix the Dry Coconut, Poppy Seeds Powder, grounded Dry Fruits, Cardamom Powder, Nutmeg Powder, Sugar Powder and prepare a mixture.
For the Karanji: Slightly grind the Suji Dough in a mixer and prepare 25-30 equal balls from the Dough. Roll the balls into Medium size Puris and insert a tablespoon of the mixture into the Puri and fold the Puris and give cut with a Karanji Cutter from the sides. Then keep it in a plate covered with a slightly weight cloth. Prepare all Karanji in the same procedure.
Heat the Ghee in a Kadai and deep-fry the Karanji on a medium size flame until they become crispy or light pink. After frying the Karanji keep them on a piece of Paper for cooling. Then store them in an air tight container.