This is a step-by-step Recipe for making at home crispy and tasty Restaurant Style Chinese Paneer Lollipop Sticks. This is a great starters snack, which is suitable for any kind of party, including kitty and cocktail parties.
These delicious Homemade Paneer Sticks can also be served for breakfast or as a part of the main course meals.
The Marathi language version of the same recipe can be seen here – Paneer Lollipop Sticks
Preparation Time: 45 Minutes
Serves: 10-12 Lollipops
Ingredients
2 Big size Potatoes (boil and mashed)
1 Cup Paneer (shredded)
1 Tablespoon Ginger-Garlic (chopped)
2-3 Green Chilies (chopped)
1 Teaspoon Soya Sauce
1 Tablespoon Cornflour
2 Bread Slice (crumb)
½ Teaspoon White Pepper Powder
2 Tablespoon Coriander Leaves (chopped)
1 Small Onion (chopped)
Salt as per taste
10-12 Ice Cream Sticks (wooden)
Oil for dip frying the Paneer Sticks
2 Tablespoon Refined Flour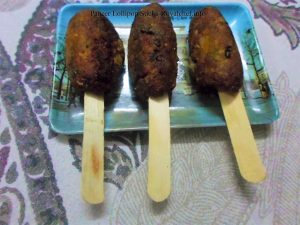 Preparation
Boil the Potatoes. Peal them and shred them.
Shred the Paneer, chop the Onion and Coriander Leaves.
Mix the boiled Potatoes, Paneer, Ginger-Garlic Paste, Soya Sauce, Coriander, Bread Crumbs, Cornflour, Green Chilies, White Pepper, Salt and prepare a Dough.
Then prepare 8-10 equal sized oval shaped balls from the Doug.
Roll each ball into the Refined Flour.
Heat the Oil in a Kadai and deep-fry the Pander balls until they become crispy or dark brown.
Serve hot with Tomato Sauce.
While serving insert the sticks and then serve.