This is a Recipe for making at tasty and delicious Homemade Indian Style Mcdonald style Veg Burger. These Indian Style Veg Burgers, using freshly prepared Homemade Mayonnaise Sauce and Aloo-Tikki, not only taste as good or better than the ones you get in Fast-Food Joints but are also healthy and hygienic.
The Veg-Burgers can be served for breakfast and even in the tiffing-boxes of school going children.
The Marathi language version of the same Mcdonald Style Veg Burger recipe can be seen here – Homemade Veg Burgers
Preparation Time: 60 Minutes
Serves: 4 Persons or 8 Veg Burgers
Ingredients
8 Fresh Burger Buns
1 Large Size Tomato (slices)
1 Large Size Onion (slices or rings)
4 Cheese Cubes
Iceberg Lettuce Leaves
Butter for Bun frying one side of the Buns
For the Mayonnaise Sauce
2 Cups Milk
2 Eggs (only the yokes)
1 Tablespoon Cornflour
1 ½ Teaspoon Mustard Powder
1 ½ Teaspoon Salt
4 Tablespoon Sugar
2 Teaspoon Oil
1 Tablespoon Vinegar
Potato Tikki for the Veg Burger
4 Medium Size Potatoes
1 Medium Size carrot
¼ Cup Green Peas
1 Tablespoon Ginger-Garlic-Green Chili Paste
2 Bread Slices (crumb)
1 Teaspoon Lemon Juice
¼ Cup Coriander Leaves (chopped)
Salt as per taste
2 Bread Toast (powder)
Oil for Shallow frying the Potato Tikki
For the Garnishing
Salt and White Pepper Powder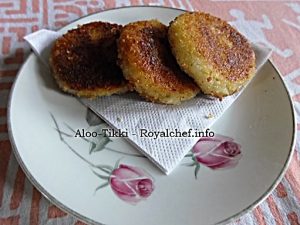 Preparation
For the Aloo-Potato Tikki
Boil the Green Peas and mash them slightly, Shred the Carrot. Boil the Potatoes, Peal and shred them and then add the mashed Green Peas, shredded Carrot, Ginger-Garlic-Green Chili Paste, Bread Crumb, Coriander, Lemon Juice and prepare a Dough.
Then prepare eight equal size balls and flatten then in the center.
Then roll the Potato Tikki into the Bread Toast Powder.
Heat a non-stick Tawa and shallow fry the Potato Tikkis until they become crispy.
For the Mayonnaise Sauce
In a Bowl mix the Egg Yoke, Mustard Powder, Sugar, Salt, Oil, Cornflour. And then add slowly the Milk and mix it well.
Pour the mixture into a Kadai and cook on a slow flame, keep stirring until the mixture become thick.
Remove the mixture from the flame and add the Vinegar and mix it well and keep it aside for cooling.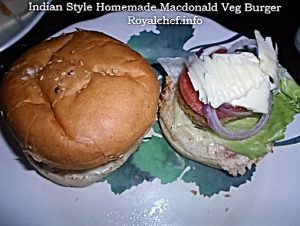 For the arranging the Veg Burger
Divide the Bun into two parts and apply the butter on the inside portion of the Bun and fry it slightly.
Apply a tablespoon of the Mayonnaise Sauce on both the inside portions of the Bun and then arrange the Lettuce Leaves, Aloo Tikki, Tomato Slice, Onion Ring and sprinkle the Salt and White Pepper Powder, Shredded Cheese over them and then close the Bun.
While serving wrap with tissue paper.