This is a Recipe for making at home delicious, smooth and crystal free Ice Cream Parlor Style Eggless Butter Scotch Ice cream along with Praline.
The preparation method has been simplified and given in a step-by-step manner, including the procedure of making the Basic Ice Cream and the Praline.
The Marathi language version of the same Ice Cream recipe can be seen here – Eggless Butterscotch Ice Cream
Basic Preparation Time: 20 Minutes
Basic Freezing Time: 7-8 Hours
Butter Scotch Ice Cream Preparation Time: 10 Minutes
Ice Cream Freezing Time: 2 Hours
Serves: 10 Persons
Ingredients
For the Basic
2 Cups Milk (cow milk)
1 ½ Tablespoon Corn Flour
1 ½ Tablespoon GMS Powder
7 Tablespoon Sugar
1/8 Spoon Stabilizer Powder
2 Tablespoon Milk Powder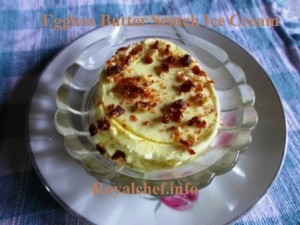 For the Butter Scotch Flavor
½ Cup Cream
1 Tablespoon Honey
¼ Teaspoon Yellow Color
1 Teaspoon Butter Scotch Essence
For the Praline
½ Teaspoon Ghee
¼ Cup Sugar
4 Almonds
4 Cashew nuts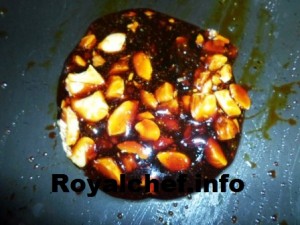 Preparation
For the Basic Ice cream: Keep one cup of Milk on a slow flame in a big sized vessel. In another one cup of Milk add the Corn flour, Milk Powder, GSM Powder, Stabilizer Powder, Sugar mix it well and pour into the boiling Milk, keep stirring continuously for five minutes. Then keep the vessel for cooling and then keep it into the refrigerator for 7-8 hours. Then remove the Basic Ice cream from refrigerator and cut it into small pieces.
How to prepare Praline: Heat the Ghee in a frying pan and add the Sugar, and keep the pan on a slow flame until the Sugar color changes into dark brown. Then add the Almonds, Cashew nuts pieces and mix it well and then keep the pan aside for cooling and after cooling crush the Sugar slightly.
In an Aluminum container add the Basic Ice cream, Fresh Cream, Honey, Yellow Color, Butter Scotch Essence and blend for five minutes and then mix the Praline. Then again, keep it into refrigerator for 2-3 hours for the setting.
While serving the Butter Scotch Ice Cream garnish with the Praline.