This is a Recipe for Paneer Gravy with Saffron, a rich and expensive spice, called Kesar in the Hindi language. This is delicious Paneer gravy with a combined flavor of rich Indian Spices, Saffron and Cashew –Nuts.
The Marathi language version of the same Kesar Paneer recipe is published in the article – Here
Ingredients
200 Gram Paneer
Masala to be grounded
2 Medium size Onion (boiled and chopped)
2 Medium size Tomato (boiled and Puree)
½" Ginger Piece
2 Tablespoon Coconut (grated)
5-6 Cashew Nuts
½ Teaspoon Cumin Seeds
Two Green Cardamoms
Salt, Sugar as per taste
1 Teaspoon Red Chili Powder
1 Teaspoon Coriander Seeds Powder
½ Cup Coriander Leaves
¼ Teaspoon Saffron (soak in warm milk)
¼ Cup Fresh Cream)
१ Tablespoon Oil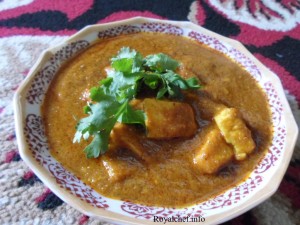 Preparation
Ground the Masala, Onion, Ginger, Coconut, Cashew Nuts, Cumin Seeds, and Cardamoms and keep it aside.
Heat the Oil in Kadhai and add the grounded Masala and fry for two-three minutes then the add Red Chili Powder, Coriander Seeds Powder, Salt and fry for two minutes.
Add the Tomato Puree, half-Cup Water, and Fresh Cream, Saffron, Paneer and mix it well. Then cook for two-three minutes.
Garnish with Coriander Leaves with Parathas.