This is a most simple Recipe for making at home sweet and delicious Mithai Shop Style Mawa or Khoya Peda. These Pedas not only taste great but they are also hygienic because of the use of pure and unadulterated Khoya.
These Khoya Pedas take hardly and time or effort to prepare once you have all the essential ingredients in place.
The Marathi language version of the same homemade Pedha recipe can be seen here – Khava Pedha
Preparation Time: 15 Minutes
Serves: 30 Nos
Ingredients
250 Grams Whole Dried Milk [Khava/Khoya/Mawa]
½ Cup Sugar (Powder)
½ Cup Milk Powder
1 Teaspoon Cardamom Powder [Elaichi Powder]
Saffron for garnishing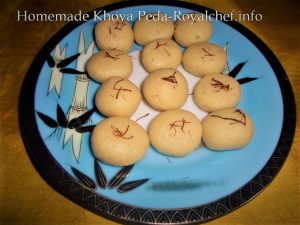 Preparation
Shred the Khoya and keep it aside.
Heat the Kadai and add the Khoya, Sugar and cook on a slow flame, until the mixture become thick. Remove the mixture in a plate and keep it aside for cooling.
After the mixture cools down add the Milk Powder and Cardamom Powder and mix it well and prepare a Dough.
Then prepare medium sized Pedas from the Dough.
Garnish with Saffron sticks and store an air tight container.